I can't believe it's time to pick my AniDora (or Anime and Dorama) choices for this Fall 2010. I always watch new anime every season and I admit it's pretty tiring to watch Anime and Dramas over and over again. Sometimes, it's not amusing anymore. But here I am again picking titles.
For Anime, my picks are: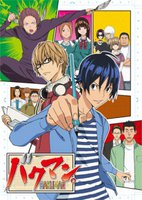 Bakuman: Moritaka Mashiro, a junior high school student, content to live out a relatively normal life as any other does, is persuaded by his classmate, Akito Takagi, to become an aspiring mangaka when the latter realizes his natural talent as an artist. However, Moritaka is reluctant to pursue his dream as his uncle, once a mangaka with his own serializations, died from overwork trying to regain his lost status. With Akito's help, Takagi gets another classmate and his school crush, Azuki Miho, who is an aspiring voice actress, to voice in the anime adaptation of their future manga once it is completed. However, Mashiro also proposes to Azuki, who surprisingly accepts only on the condition she will marry him when both of them have achieved their dreams. With a goal set before him, Mashiro begins a long and struggling path to become a famous mangaka.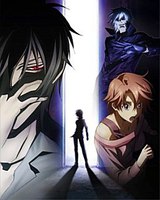 Psychic Detective Yakumo: In order to help a friend possessed by a spirit, Ozawa Haruka knocks on the door of her university's movie research association. There she meets Saitou Yakumo, a rude, unkempt young man with a red left eye, who is said to have spiritual powers. At first Haruka is skeptical, but she comes to believe him when he conveys messages from her older sister, who died when she was a child. Together, they work to shed light on the terrifying events happening at their university. But this is only the prologue of what's to come…
Get your custom rubber stamps at rubberstampchamp.com
For Doramas. I pick:
Freeter, Ie wo Kau (of course because of Nino! Even tho he's my least favorite Arashi member as of now…):
Seiji Take (Kazunari Ninomiya) is a young man who quits his job after working for only 3 months. He has no dreams, no will and zero money. He also fights with his father over his ways and then becomes a "hikkimori" – a recluse who never leaves his room. When his mother falls ill due to depression, Seiji is then forced to take a part time job at a construction company. He believes his job is just temporary and acts distant with his co-workers. Seiji then meets on site-supervisor Manamai Chiba (Karina) whose personality is the polar opposite of Seiji's. They have disagreements at first but become more understanding of each other. Through his work Seiji's outlook on life starts to change and he starts to rebuild his life.
and maybe these two:
Juui Dolittle (Shun Oguri and Inoue Mao!): Tottori Kenichi is a foul-mouthed but gifted veterinarian nicknamed Dolittle. His catch phrase is 'pet care means business'. He is the director of his animal clinic and rescues not only 'voiceless' pets but also helps their owners, who lack understanding and caution, with their problems and worries. Working with him is animal nurse Tajima Asuka. Hanabishi Masaru is Dolittle's rival, a charismatic vet and director of another animal hospital who has not only an opposite personality but also a different stance towards pet care. The drama focuses on the love triangle between those 3 and tries to teach the viewers about human-pet relationships.
Keizoku 2: SPEC (Toda Erika): Like the original series, "SPEC" will revolve around a pair of police detectives as part of a special division solving difficult cases (Mishou). Touma Saya is a woman with an IQ of 201 and an inability to "read the atmosphere" in social situations. Due to a previous case, her left arm is in a sling. Her partner Sebumi Takeru used to be the star performer of the Metropolitan Police. After some incident however, he was transferred to Mishou. Those two track down offenders with special abilities(SPEC) who managed to get away with their crimes.